Attention all Cheshire residents searching for the ultimate event catering experience: look no further than Hog Roast Handforth! Our team of catering extraordinaries, led by the talented Alan, is here to turn your special occasions into unforgettable moments. From weddings to birthdays, christenings to anniversaries, or even corporate events, we have the expertise and passion to make every celebration a resounding success.
One satisfied customer who can attest to the excellence of Hog Roast Handforth's services is Ian. He recently entrusted us with his company's annual fundraiser, and the results were nothing short of spectacular. The event not only brought together staff and their families for a memorable night but also raised over £1,000 for charity. It was a win-win for everyone involved!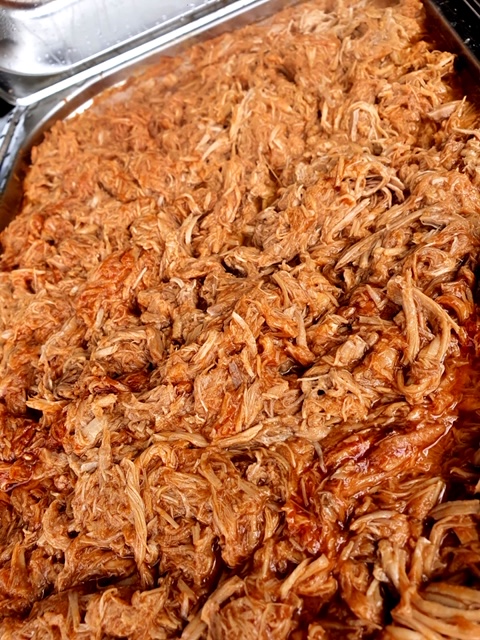 The secret to our success lies in our extraordinary meal plans. This time around Hog Roast Handforth served our Southern Slow Roast Menu, a Deep South-inspired spread that always leaves taste buds craving more. With a combination of traditional slow-roasted meats and a variety of mouth watering sides, this tantalising menu offers something to delight every set of taste buds. From tender BBQ pork butt to succulent Cajun-spiced chicken and flavoursome beef brisket, each of our slow-roasted meats were marinated and cooked to perfection, ensuring an explosion of flavours with every bite.
At Ian's fundraiser, the food became the star of the show, with guests raving about the delicious fare. They praised the smoky meats, plant-based jackfruit rolls and delicious sides, which comprised fresh salad, mixed fries and mac and cheese. The Southern Slow Roast Menu not only satisfied appetites but also brought people together, fostering a warm and convivial atmosphere.
But the fun didn't stop at the food! At the fundraiser, top-performing staff received well-deserved awards, while the raffle added an element of excitement. As the night progressed, guests were treated to various performances, including budding comedians who brought laughter, a hypnotist who amazed the audience, and live music that got everyone on their feet.
It was a brilliant night all round; everyone went home with a spring in their step and a smile on their faces, and Hog Roast Handforth is proud to have been involved!