In addition to our classic hog roasts, Hog Roast Leigh can also serve up a wide array of different menus depending on our clients specific tastes and requirements. One of our extremely popular menus has to be our 'Southern Slow Roast' menu which incorporates tastes from across the Atlantic to create tender slow roasted meats packed full of flavour. We had been asked by Susan to provide our Southern Slow roast for thirty six guests at an event she was hosting. Originally from South Carolina in the US, Susan was travelling over for this event and so catering manager Paul knew he would have his work cut out for him to ensure Susan was rightfully impressed by the Hog Roast Leigh.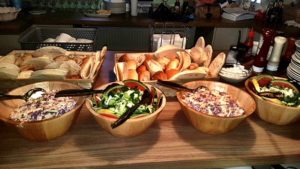 When you chose the Southern Slow roast menu you get to choose three different meats that have all been marinated in our secret recipe rubs which we will then roast low and slow for several hours. Susan had chosen a world class combination of BBQ Pork Butt, Texan 24 Hour Beef Brisket and Fall Off The Bone Louisiana Sticky Pork Ribs. Delicious! In addition to the meats this menu also comes with a variety of themed accompaniments and Susan had chosen some Memphis style crunchy  coleslaw, fresh corn cobettes that we would serve dripping with warm melted butter, the all American classic of mac and cheese along with a freshly made Greek salad.
Susan really wanted to ensure there would be something to suit all of her guests appetites and so she also asked Paul to provide some butchers selection sausages and chips. Susan informed us that the event was a birthday party and that she would be sourcing the cake and so we were not required to bring along a desert. After all of the guests had had their fill of our Hog Roast Leigh and the birthday cake had been served we began to discretely pack away. As always we made sure to wrap up any leftovers for guests to enjoy in the following days. We hope our southern slow roast was worth the journey Susan!