Recently, the Hog Roast Liverpool team were hired by Kimberley for an event she was hosting. She had selected the Blundellsands Tennis Club, on Warren Road, in Liverpool for her party. The food was being served as a casual buffet for the guests to pick and choose their food.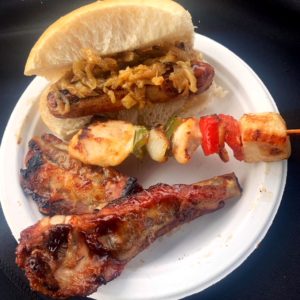 The Hog Roast Liverpool team served their menu two to Kimberley's guests which a selection of different meats. They served sausages and a variety of BBQ meats which complimenting sauces and sides including cheese sliced for sandwiches. The meats were served alongside a selection of bread rolls and wraps including cheesy rolls. A vegetarian option was served as an alternative to the meat in the form of lightly grilled vegetable and halloumi wraps which were served with Tzatziki dip and pitta breads. As they served the food, the team helped to create a really friendly atmosphere.
The buffet was to be served to 80 people who all really enjoyed the food. The Hog Roast Liverpool team received some great compliments from the guests on the quality of the food and Kimberley was really impressed by the luxurious buffet spread. The food was served from 2:30pm to 3:00pm so it important that the buffet was ready on time and the food was served efficiently so that they could get through all 80 guests. The service was led by the Hog Roast Liverpool's Head Chef, Paul, who ensured that everything was perfectly cooked. His assistant, Lauren, also worked really hard on the buffet and they were both really proud of the food they put out. The food was served on disposable crockery with disposable cutlery so that they hostess did not have to worry about washing up after the service. The Hog Roast Liverpool team quickly and discreetly cleared away all of the crockery and waste after the service so that Kimberley did not have to lift a finger. They had provided all of their own equipment and efficiently packed it away after the service. Kimberley was really pleased with how professional the team presented themselves and the food and would definitely hire them again.