Recently, the Hog Roast Liverpool team were hired by a local client, John, for his event. The venue booked for the event was the Holy Name Social Club in Liverpool. The Hog Roast team provided a fantastic traditional buffet for the event using fresh, locally sourced ingredients to ensure that everything tasted fantastic. The event was perfect for the Hog Roast Liverpool team as it was suited to their catering style.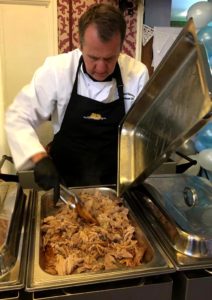 The client chose a classic hog roast selection for her event which featured a delicious spit roasted whole hog. This was served with the traditional sides of fresh apple sauce and homemade stuffing. In addition, a selection of soft bread rolls and wraps were served in wicker baskets. In addition, this fantastic method of cooking produced some delicious crispy crackling which was served alongside the meat on the buffet table. Furthermore, an alternative vegetarian option of vegetable and halloumi skewers was served on the buffet table by the Hog Roast Liverpool team and was enjoyed by many of John's guests.
The service was led by the Hog Roast Liverpool team's Catering Manager, Paul, who oversaw the service. He did a great job of leading his team through the service and ensured that all of the preparations for the buffet service were on schedule. The hog meat was carved by the team's Catering Manager and the crackling was carefully removed and served in bowls along the buffet table for the guests. The buffet was for 100 guests and so it was important that the food was served to the buffet table at the same time so that all of the guests could receive their food together. The Hog Roast Liverpool team's food was placed on the buffet table at 5pm as an evening service which would replace the guest's dinner. Therefore, it was important that everything was perfect and that there was plenty of food for everyone. The guests appeared to really enjoy the food and many returned to the buffet table for second helpings. Overall, the event was a huge success and John was really pleased with the outcome.