Here at Hog Roast Helsby, our team members always love to see a good old knees-up and that often happens when we're catering a wedding of course. Whether it's family members on the dancefloor or friends doing a conga line around the venue, a wedding is great for getting people up and dancing, both young and old. However, we recently catered a wedding for two dancers who had met while working together on theatre tours, so when they planned their wedding, they knew it had to have some sort of a dance theme to it, so we knew this would be something completely different for us to enjoy while providing lovely food for the couple and their guests.
When Mark and Gina contacted Hog Roast Helsby months ago, they booked us in for a centrepiece hog roast for their wedding day, and asked us to make pigs in buns for most of the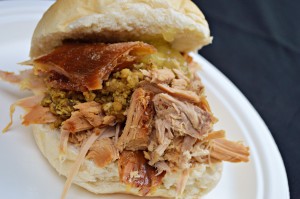 guests. We love to ensure that all of our guests can enjoy our food, so when they asked us for a gluten-free option to be served as well, we surprised them by letting them know that our hog roast rolls can actually be served gluten-free, simply by us bringing along suitable bread rolls for those guests. With the rest of the ingredients being suitable already, this means that guests with a gluten intolerance or allergy can enjoy the same food as everyone else. If you have any other dietary needs, we have all kinds of options available, such as vegetarian, vegan and dairy-free, so you can rest assured that all of your guests can eat our gorgeous fare, no matter the occasion you need us for.
When it came round to the day of the wedding feast, it was pouring with rain and windy outside, but the couple had a huge marquee erected on-site at the venue and we would be cooking the food inside. Our Hog Roast Helsby team got cracking with the hog roast hours before service, while the marquee was being decorated with dance memorabilia, and it was resting by the time the couple and their guests arrived. In no time at all, we were busy serving plenty of pigs in buns to Mark and Gina and their 70 guests, including to two very thankful gluten-intolerant guests.