December is here which means Christmas has crept up and is closer than ever. No matter if you are a Christmas lover or a bit of a Scrooge at this time of year, Hog Roast Stretton can make all your Christmas wishes come true by providing exceptional festive food for any and all occasions!
This week we were inundated with calls about Christmas parties as our last few slots get booked up. One special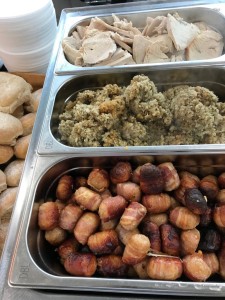 customer was Audrey. We had catered for Audrey and her family on many occasions but never before at Christmas time and having seen our advertisements and festive menus she was keen to get booked in to try the food for herself. Audrey was planning to cook up a Christmas dinner on the big day herself as she does every year but thought it might get people in the Christmas spirit if she hosted a Hog Roast Stretton the week before for all her friends and family. We liked the sound of this idea, as we never turn down a Christmas party, and quickly got to work planning the menu.
Of course, as its Christmas the main event would be turkey! We would be slow roasting the turkey on site with one of our trusty Hog Roast Stretton machines. As Audrey requested a serve time of 2pm this would mean setting up early and arriving at around 9am to ensure the turkey had all the time it needed to be cooked to perfection. Now, many people are not keen on turnkey even at Christmas, so Audrey asked us to do what we do best and bring along a hog to slow roast too! All of this was to be served with seasonal roasted vegetables, a homemade sage and onion stuffing and our chefs family recipe cranberry sauce. In addition to this we were also going to prepare a festive dessert in the form of a Christmas pudding and a chocolate gateau for the kids. With just about everything sorted all that was left was for Audrey to count down the days until she gets to try our festive Hog Roast Stretton…