Birthday celebrations come in all shapes and sizes, and Hog Roast Helsby has a variety of menus to suit any kind of celebration. Whether you want a casual gathering, a formal dinner, or something in between, our team is here to help! Here is just one menu that you might choose to enjoy this winter…
Lauren's birthday is the 25th of November and she has always loved celebrating with great food, great company, and a relaxed day. This year, she has planned the perfect way to enjoy her birthday, with all of her guests coming around to visit her at home, where Hog Roast Helsby will be serving a delicious hog roast for everyone to enjoy. Our menu is ideal for enjoying on a winter evening since it is the perfect comfort meal and there will be more than enough to go around- including plenty for seconds!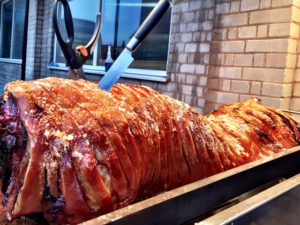 In preparation for this event, the Hog Roast Helsby team will arrive at Luaren's home in the morning to give us plenty of time to slow-roast the hog on-site. Once the pork is ready, it will be expertly carved by our chef and served in fresh bread rolls, alongside sage and onion stuffing, homemade applesauce, and crispy crackling. This will create a delicious main dish by combining several complementary flavours. For meat-free guests, we will also be serving BBQ pulled jackfruit, which is a delicious alternative to pulled pork. Alongside the mains, the guests can enjoy homemade chips, gourmet coleslaw, seasonal salad dishes, and corn cobettes. This will create a varied and nutritious evening buffet which will be the perfect addition to Lauren's birthday. The Hog Roast Helsby team is looking forward to catering for this event and helping to make Lauren's birthday one to remember!
To find out which of our menus is right for you, simply let us know your party size, date, and location and we can do the rest. We hope to hear from you soon!