This weekend was a wedding weekend. We get called to do quite a few weddings, as hog roasts Leek are becoming increasingly popular as a part of the catering for what is arguably the most important and most complex event a couple might ever arrange. Often, the wedding isn't actually arranged by the matrimonial pair, as obviously they have many things to prepare for and depending on the number of guests, a lot of catering to be delivered.
This weekend wasn't the largest wedding we've catered for, but it was by no means the smallest. There were 200 guests at the all-day event, with ourselves providing our services in the afternoon, following the ceremony.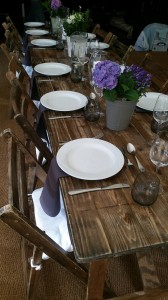 Here at Hog Roast Leek, we're always pleased to be able to use our experience of catering for weddings to make sure that no matter how complex or hectic the day might be from an organisational perspective, at least one element is 'in the bag' and will deliver as smoothly as is feasibly possible. If you've never been involved in the organisation of a wedding, you'd perhaps be forgiven for thinking that it's all a by-the-numbers kind of thing, and that as long as everything is arranged in advance, that there's nothing to fret about.
But if you've ever been directly involved in managing the many, many variables that present themselves, you'll appreciate how it's easy to overlook things. This is if you're why planning a wedding it's a sensible idea to get in touch with us. We've oodles of experience in catering to weddings. We set up early enough to start off our custom built spit roasting machines so that at the right time, your guests will be supplied with as many fresh mouth-watering hog rolls as they need to keep them going until the main sit-down meal later in the evening, our staff are punctual, smart and whilst they are friendly and interact with your guests as the hog roast Leek is served up, they are also exquisitely polite, and know their business so they can have everything packed away with minimum fuss.
Needless to say, this weekends wedding went as smoothly for us as ever, and we got to enjoy the sense of a job well done, having made someone's special day that little bit more special.