We were honoured to be asked again this year if we could come and carer for the parade for the Christmas lights in our area with a hog roast Kelsall! We did the event last year for the first time and we had a fabulous night full of busy but we wouldn't have it any other way so to be asked back again was a compliment. We arrived early evening and wrapped up in woollies and hats the proprietors were putting the finishing touches to the lights and we were full steam ahead on the cooking.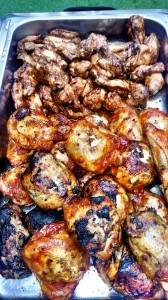 Chicken breasts, chicken legs and wings were placed on our large machine and within minutes they were sizzling way. We chopped some sweet potatoes and covered them in herbs and set them onto cook and then it was time to slice and dice the mountain of salad vegetables and we then placed them in pots for guests to enjoy. In large baskets we placed very single type of bun and wrap imaginable all baked fresh earlier that day we like to provide an assortment of variety and love to come up with new flavours as we think flavour is paramount in all we do.
The event was well underway and we were ready to serve we enjoyed the lights and no expense was spared to put on a spectacular event then it was our turn to shine! And shine we did the chicken was wonderful so succulent and guests were chatting to each other as they tasted and we could hear them saying to one another how amazing the chicken tasted. The meat cooks in no time using our state of the art machines and we love to please and always do. We had guests coming over to us asking who supplies our buns and wraps? And they were amazed when we told them we do ourselves here at hog roast Kelsall. We bake them fresh on the day for very single event and we left a huge pile of leaflets and when we checked they had all gone so we know for sure we will be getting calls back. The night was amazing good food and good entertainment there is nothing better. A great event for hog roast Kelsall!