We here at Hog Roast Crewe pride ourselves on being able to adapt and tailor our fantastic catering services to a whole host of different events and recently one our most popular events has been corporate business events. Our most recent corporate event was last week in Crewe for a well known high street store which was hosting a business lunch for more than 150 staff from all over the region. This delightful event was to host an educational meeting on the launch of a new product as well as a celebratory theme for all of the staff's hard work over the past few months.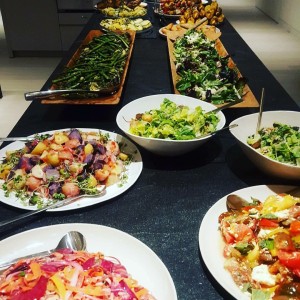 The venue of choice was local to the stores head office at a hired out meeting room. Now, as with every function room comes a few obstacles in deciding where is the most suitable for us to be able to prepare and cook our Hog Roast Crewe. However we are more than happy to adapt to any kind of venue as long as there is some sort of element of outdoor space to allow us to cook, as sadly most venues are not adequately ventilated enough to allow for indoor cooking. At the most recent venue we managed to secure a large area of the car park to the side of the building as it was the most suitable space for both safety and practicality. We built up our large gazebos for coverage of any unexpected weather conditions, before beginning food preparation. Our client had requested our classic whole hog roast Crewe with some more formal side dishes and served buffet style inside the venue. We slow roasted our pork meat for several hours to serve with herby roasted new potatoes, seasonal greens and a home made delicious tomato and mozzarella salad which is always a favourite.
Once all our food was prepared and we had gently carved our meat (a careful task as it is so tender, it often falls apart!), we brought the food into the building and into the conference room which was hosting the business event. We prepared a delightful spread of hot food and tasty homemade condiments (you can't have pork without yummy apple sauce and sage and onion stuffing can you?!) for guests to help themselves to, with more than enough food to keep them going through a busy meeting and provide second helpings if they so wished!