This October, Riley and Nadine were hosting a Halloween house party for their friends and allocated the dress code to be fancy dress and costumes. The couple also needed someone to cater for their guests and they chose the Hog Roast Gresford team for the job. They stocked up on beer and spirits to please their guests and decorated the house ready for the party.
On the crisp night of October 31, the Hog Roast Gresford team set up in their garden and fired up the Hog Roast so it would be well underway by the time the guests arrived. When they did, they showed up in an array of fantastic costumes from 'British tourists abroad' to matching couple costumes with many bringing offers of beer crates and snacks. The guests were delighted to discover the roaring Hog Roast in the garden and were pleased with how the Hog Roast selection complimented the beer they were drinking.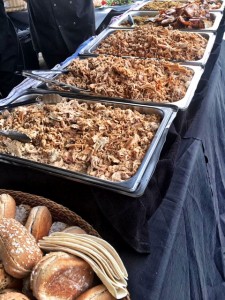 Once the party had gathered speed, the Hog Roast Gresford team served up the fresh food onto a fantastic buffet for the guests to pick and choose from. The food went down as a great success and Riley and Nadine were pleased by the huge selection offered. The buffet was eaten up very quickly with the hungry guests enjoying the fresh food. The Hog Roast was followed by more music and drinking, yet the Hog Roast Gresford team continued to work to top up the buffet so the hungry guests could continually go back to it throughout the party.
The Halloween party was a fantastic success for Riley and Nadine and they thanked the Hog Roast team for their endless efforts when managing the Hog Roast throughout the cold evening. They said the food was really fresh and that they were very glad that they had hired the team as the food went down incredibly well. The Hog Roast worked particularly well for this occasion because the buffet provided was a great way for the guests to try different foods through the night without it being too heavy on the stomach for the party. In addition to this, the meat was very complimentary to the beer being served.