Before getting hitched earlier in the week, one loved-up couple wanted to bring their entire wedding party together for one big celebratory bash at their home in Wrexham, but with the stresses of event planning still heavy on their mind, the last thing they needed to be dealing with was catering for 110 people. Instead, the pair decided to reach out to the Hog Roast Wrexham team where they were able to discuss their goals for the day with expert catering manager Paul who recommended our extremely popular southern slow roast menu for the occasion and after taking a look at the menu for themselves, the happy couple eagerly placed their booking.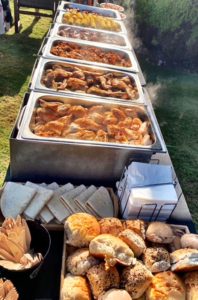 Headed by Paul, the Hog Roast Wrexham catering crew made their way to the couple's home in the late morning where they quickly got to work setting up the gazebos in the spacious back garden and preparing the selection of meats by marinating them in our secret recipe rubs before allowing them to sizzle for hours over the flames. With time left to spare before the guests were set to arrive, Paul brought the couple into the garden to allow them the first look at the mouth-watering buffet of BBQ pork butt, cajun spiced whole roast chickens and pork ribs which were to be served on our eco-friendly wooden crockery alongside platters of Memphis style crunchy coleslaw, buttery corn cobettes, Greek salad and cajun spiced sweet potato wedges – and for vegetarians, the team had also whipped up a meat-free option of grilled vegetable and haloumi skewers, served with pitta breads and a tzatziki dip. The couple were blown away by the tantalising menu and even joked that they didn't want to wait for their friends and family to arrive before helping themselves to the feast!
Fortunately, the couple didn't have long to wait and the garden was soon buzzing with excitement as the guests arrived to fill their plates with generous helpings of the delicious food on offer – and celebrate the newlyweds-to-be, of course! As the evening came to an end, the Hog Roast Wrexham team discreetly cleared away the aftermath and handed out some business cared before leaving the couple and their guests to enjoy the rest of their evening.