Award-winning independent communications company Challenger Mobile Ltd are always giving back to their local community by offering their customers a competitive service and hosting various fundraising projects for important charities. After all the hard work the team have been putting in over the years which has seen a huge rise in company profits, Maxine decided that it was time they treat themselves to a relaxing afternoon of good food at Pedbedw Estate. Her search for a trustworthy catering service soon brought her to Hog Roast Mold and after skimming through our wide range of packages, she picked up the phone and called our customer service team to find out more.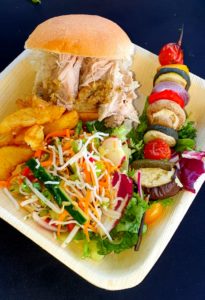 With 75 mouths to feed, catering manager Paul suggested our hog roast dining menu which features an informal alfresco style buffet of succulent meats, colourful salads and a band of hands-on catering staff to set the tables and clean up afterwards – which for Maxine was a winning combination. After placing the booking, all that there was left for Maxine to do was spread the word to her co-workers and wait for the big day to arrive, which thankfully was just around the corner!
On the day of the event, Paul and the rest of the Hog Roast Mold team arrived at the estate in the late morning and starting with the whole pig which they evenly scored to create that perfectly crispy crackling, the team worked tirelessly to prepare the mouth-watering feast. With the hog roast sizzling away on a bed of savoury stuffing, it was time for the team to rustle up the side dishes of seasonal salad, crunchy coleslaw, Thai salad, jacket wedges and of course our popular meat-free alternatives of grilled vegetable and grilled vegetable and haloumi skewers for any vegetarians and vegans in attendance.
When the Challenger Mobile Ltd team arrived to discover the tantalising buffet laid out by the Hog Roast Mold catering crew, they wasted no time in grabbing themselves a dish from the towers of eco-friendly wooden crockery and after polishing off their first plateful, they couldn't help but return for second and third helpings!