Perhaps we're slightly biased, but here at Hog Roast Macclesfield, we believe a hog roast is a fitting feast for any occasion, no matter how intimate or grandiose. Judging by the vast array of different events we are asked to cater for, our clients must also agree!
We have been getting an increasing number of requests to cater for corporate events lately, which is a testament to our beloved Hog Roast Macclesfield's popularity and versality.
Last week we were asked to provide lunch at a company conference for 100 employees who work for a thriving recruitment business based in and around Macclesfield. The organisers of the conference wanted to set themselves apart from the uninspiring 'soggy sausage rolls and limp ham sandwiches' cliché that is often associated with such events. They wanted to provide their loyal workforce with a tasty and memorable treat to reward them for all their hard work throughout the year. They also wanted to give their employees a break from the formal confines of the office and create a relaxed dining experience that would allow them to mingle freely with colleagues from other branches, without being restricted by a seating plan, a set menu or the obligation to 'talk shop' during their lunch break.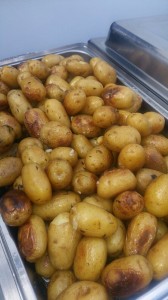 With this in mind, we suggested one of our more informal buffet-style corporate catering options and they enthusiastically agreed that this fitted the bill completely. With the traditional slow roasted pork, buttery new potatoes and a choice of classic Caesar and crispy Thai salads on the menu, they were confident that the event would be a huge success.
On the day of the conference, our Chef and Catering Assistant worked tirelessly throughout the morning whilst the proceedings were underway in the next room to ensure the attendees would get a lunch they would never forget from Hog Roast Macclesfield. Right on cue, our Chef was expertly carving the scrumptious pork as the hungry employees began to filter into the dining room, whilst his efficient sidekick was preparing the colourful salad selection and tender new potatoes.
The room was soon buzzing with friendly chatter as everyone tucked into their well-deserved and expertly prepared lunch. The food and atmosphere were everything the conference organisers were hoping for and they were so impressed with the quality and service on the day that they have already booked us again for next year!