Buying a house is always a very stressful time and with an endless list of things to do and think about, it's difficult to know where to start. What should your first priority be- unpacking, DIY, sorting out the bills? Here at Hog Roast Alsager, we believe you should put all the hassle to one side for a while and throw a housewarming party to celebrate this major milestone in your life!
Laura and her husband were on our wavelength in that department when they decided to put off the unpacking for the time being and hire us to provide a housewarming hog roast so they could show off their new pad to all their friends and family. And besides, all those boxes could come in handy as make shift tables for the night if their dining room suite hadn't been delivered in time!
Laura's husband was initially planning to do the cooking himself, but with no disrespect to his barbequing prowess (not to his face anyway!), Laura convinced him that hiring the Hog Roast Alsager team was the way to go. The couple had enough to do without having the added stress of catering for everyone and besides, it's not every day you move into your first marital home, so they wanted a special feast to mark the occasion.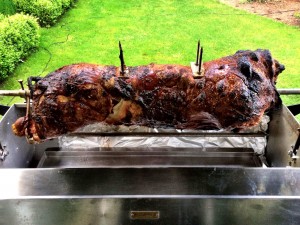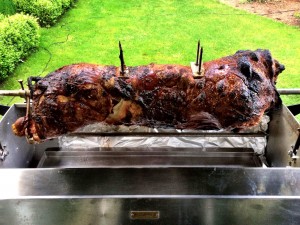 As agreed with Laura and her hubby, The Hog Roast Alsager team arrived several hours before the party was due to start, to ensure the slow roasted pork was cooked to perfect by the time the guests started to arrive. Our highly adaptable hog roast machines and multi-skilled caterers allow for a minimalist set-up, so we can prepare everything from scratch on-site, without getting under anyone's feet.
When the guests arrived, Laura was definitely glad she had left the catering to the experts and hadn't let her husband take matter into his own hands. With the Hog Roast Alsager team doing all of the hard work for them, the couple could concentrate on welcoming their guests, pouring the drinks and showing off their lovely new home. Laura wasn't sure what her visitors were more impressed by-the house or the hog roast!