A few weeks ago we got a phone call from a very pleasant local woman called Codi. Codi wanted to book a catering service for her son Ryland's christening. She was initially quite hesitant as she hadn't ever planned an event like this before however we assured her if it's great food as well as polite and friendly staff she's looking for we're happy to deliver at Hog Roast Bunbury – and so she booked us in for Ryland's big day.
Our staff arrived early enough to prepare absolutely everything, we had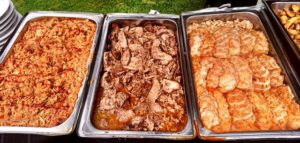 brought multiple meats for guests to choose from (our very popular Southern Slow Roast Menu) also as Codi specified that there was a lot of guests in attendance and they all like different things, hence her worry that we weren't the best choice however we took it on ourselves to prove to her we can give her son Ryland a service to remember. As soon as everyone started rolling in from the church a line began to assemble on our Hog Roast Bunbury staff – who happily made sure everyone got their food quickly and while it was still nice and hot, and we were told several times by those many people who came for seconds just how delicious our meat was! Eventually, Codi managed to get the time to come and experience our food and service first-hand and she couldn't express just how happy she was with our attendance, and we were frankly just as happy to be around the fine area and serving the hard-working people within.
As the night came to an end and we began to pack away Codi approached us once more with Ryland who thanked us personally for such an amazing experience on his big day – and we all enjoyed a lovely ten minutes of talking before we had to leave. Codi even expressed interest in hiring us again for her upcoming wedding with her fiancé Ahmed. We hope to see her again and look forward to seeing the kind guests once more and giving them the top of the range experience from Hog Roast Bunbury that they deserve.