Recently, the Hog Roast Warrington team were hired by Kate for a private event which she was hosting at her home in Warrington. Kate was hosting a garden party so the team were crossing their fingers for good weather for the service. The food was to be served in a casual-style buffet in the garden under a large marquee which was provided by the team. In addition, the buffet was served in professional heated trays to ensure that the food stayed warm outside.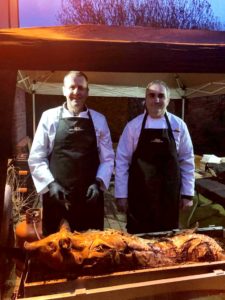 Kate selected a classic hog roast for the Hog Roast Warrington team to cook for her event. The menu was centred around a slow roasted hog which was cooked in a Hog Master machine to ensure that the meat was really tender and tasty. The meat was served alongside apple sauce, homemade stuffing and crispy crackling which was produced in the team's professional roasting machine. In addition to the hog centrepiece, the Hog Roast Warrington team also provided a vegetarian option of lightly grilled vegetable and halloumi skewers which were served with pitta breads and a tzatziki dip. At the request of the client, the team also served chips alongside the meat as well as soft bread rolls and a selection of wraps.
The buffet was to be served from 8:30pm and so it was crucial that the food was all served on time as dishes would be more susceptible to going cold when served outside at night. The food was to be served to between forty and fifty people, a perfect sized party for the Hog Roast Warrington team's classic buffets. The service was overseen by the Hog Roast Warrington team's Catering Manager, Paul, who was assisted by Stephen. They ensured that all the food was cooked to perfection and that it was all equally tasty. In addition, Paul made sure that all of the food looked fantastic on the buffet and the guests could find no fault with the food. Kate was really impressed with the buffet and all of the guests appeared to really enjoy the buffet and no one found any faults with the fantastic food.