Recently, the Hog Roast Broughton team were hired by Clare to cater at her event at her private home. The team served the food under a marquee in the garden and presented it beautifully as a buffet. Clare selected the team because she knew that they would easily be able to cater for her large number of guests with some fantastic food.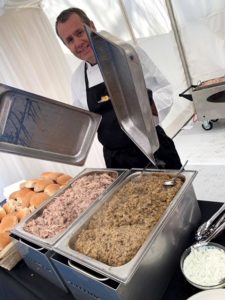 Clare selected menu one from the selection of buffet menus provided by the team. This featured a whole slow roasted hog which was cooked to perfection in one of the Hog Roast Broughton team's professional Hog Master machines. The delicious main meat was served with a selection of homemade sides including crispy crackling, apple sauce and classic stuffing. Furthermore, the Hog Roast Broughton team also provided their specialty vegetarian alternative of lightly grilled vegetable and halloumi skewers served with pitta breads. The buffet looked fantastic with the addition of the colourful skewers while bread rolls and wraps were served in pretty wicker baskets. The client also requested for the team to add chips to the menu as the event had a more casual feel.
The Hog Roast Broughton team served their buffet from 7pm onwards so it was important that the food was piping hot so it stayed warm throughout the outdoor service. The guests arrived from 4pm and the Hog Roast team also arrived in advance so that they could prepare and cook their food fresh at the client's house. This helped to create a great atmosphere at Clare's event as the guests could watch the team prepare and cook the food infront of them. The service was led by the Hog Roast Broughton team's Catering Manager, Paul, who led the team through a really smooth service. The food was served to sixty people so the team made sure that all of the food was consistently high quality. The food was served on disposable crockery which the team cleared away discreetly after the buffet was finished off by the guests. All of the guests really enjoyed the food and could not find any fault with the food.