We helped to host a groovy back to the 70s party over the sunny weekend and it was a blast! For Leah's 60th, she called us to arrange the catering for her birthday party, which would be held in her large back garden. There would be around 35 guests and she wanted to impress with the theatrics of a spectacular hog roast in Congleton as well as some other food options. When Leah told us that she would be finding another company to provide some salads and cakes for the occasion, she couldn't believe it when we told her we could easily do that, too. Whatever food that you need for your event, we can help, as we have been catering lots of different kinds of food for more than twenty years now and know how important it is to help you make your day a big success.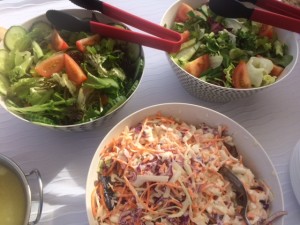 For the hog roast centrepiece itself, Leah asked us for our Private Party Menu 1 of delicious hog roast rolls. She had taken a look at our menus on our website and chose the one that we think is ideal for all kinds of occasions, including breakfast meetings, wedding feasts, parties and barbecues. We can always adapt menus or you can even create your own, but in this instance, Leah was happy to book us for our pigs in buns, a fresh green leaf salad, tasty coleslaw and our handmade, dark chocolate torte.
We arrived at Leah's house on Sunday afternoon, ready to roast a small hog for a few hours before the tea time service. After preparing the pig with water and salt, it was a waiting game while we continually checked that it was cooking evenly. By the time the guests started to arrive, dressed in fancy 1970s costumes, all the wonderful cooking smells had filled the air, tempting everyone towards our gazebo; we were asked many times if it was nearly ready yet!
While the hog rested, we freshly prepared the salads and sliced the buns and the queues began to form. Even the DJ stepped away from his mixing desk to grab a bite and we stripped the hog roast Congleton clean so they could all help themselves to more later. Then we discreetly cleared away and left Leah and her guests to dance the night away.