Last month we catered for what could be described as both a joyous yet somewhat sad occasion as we cooked up a storm for the Perry's leaving party with a Hog roast Bunbury. The Perry family (comprised of mum Julie, dad Stewart and their children Amy and Oliver) were hosting a spectacular leaving party as they prepared to say their goodbye to family and friends before jet setting abroad for a new start down under in Australia. With such a big move for the whole family, the guest list was quite extensive with almost 150 guests attending the evening party held at a local function room complete with it's own private terrace decorated with fairy lights, candles plenty of Australian props including kangaroo balloons and banners scrolled with 'G'day mate!'. It looked fantastic – a uniquely decorated venue, drinks flowing and a shrimp on the barbie (or rather one of our whole spit roasted pigs cooking away by the bar!), what more could you ask for? This was an event with style!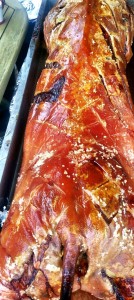 We provided the Perry family party with our classic spit roast menu which included our hog roast Bunbury as previously mentioned, slow roasted over a number of hours over open flames. We served this delicious meat which was described by one of the guests as 'melt in the mouth' on fresh floured bread rolls, homemade sage and onion stuffing and our delicious apple sauce. With a rather large guest list to cater for, our hosts were concerned that 1 hog roast alone would not be enough food for 150 people, however we assured them that combined with bread rolls and salad sides, you would be surprised just how many people one of our pigs can feed! After all nobody likes waste, so we pride ourselves in ensuring customers only order as much as they need.
With the party well underway, we served up our delicious hog roast Bunbury to a long line of eager and hungry guests keen to sink their teeth into succulent pork sandwiches with all the toppings they could pile on. What a great event – we wish the Perry's all the best with their new life down under and hope our yummy food helped to cement special memories of your leaving party!