There's always a lot of fun to be had while organising a surprise birthday party, but keeping plans a secret from the guest of honour can be a notoriously tricky task! Thankfully, the Hog Roast Neston team is always on hand to make things a little bit easier with our range of delicious menus and catering packages which have been created with all event styles and budgets in mind.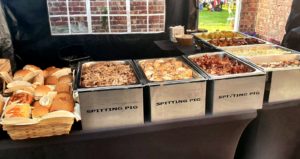 After reading through our testimonials from real people who have relied on our services in the past, the customer service team at Hog Roast Neston received a call from a client who was looking to host an unexpected birthday bash for a beloved family member at their private home in the local area. Catering manager, and expert secret keeper, Paul was placed in charge of the event and after discussing the theme and turnout for the party, the client opted for our southern slow roast menu which offers a selection of flavoursome American-style dishes, crockery and cutlery of the clients choosing; and of course, a hands-on catering crew to serve food and discreetly dispose of the rubbish offsite at the end of the night.
With the event catering in the capable hands of Paul and the rest of the Hog Roast Neston team, the only thing our client had left to worry about was getting the birthday celebrant out of the house for the day – which thankfully was easily done! Turning up at the clients home in the early afternoon, the team were led through to the back garden where they quickly set up the gazebo, laid out the wooden bamboo crockery and cutlery, and began preparing the evening's meal.
Before long, tantalising scents of Texan 24 hour beef brisket, cajun spiced whole roast chickens and fall off the bone Louisiana sticky pork ribs filled the air and by the time the client arrived home with the VIP in tow, nearly 100 guests had turned up to celebrate the special day.
The event was a huge success and guests were keen to fill their plates with generous portions of succulent meats and the plant-based alternative of grilled vegetable with optionable haloumi skewers; which paired nicely with the side options of Memphis style crunchy coleslaw, mac and cheese, sweet potato wedges, gluten-free rolls and corn cobettes.