With such a flexible catering style Hog Roast Ellesmere Port really can cater to any and all requests. From scaling up or down any of our menus to creating something extra that you feel may be missing or you would like to try, our Hog Roast Ellesmere Port chefs will be more than happy to help. What's more is that due to our unique way of cooking, we can prepare a Hog Roast Ellesmere Port at any location, indoor or out, depending on the needs of your event!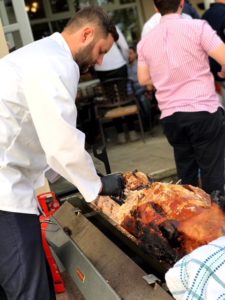 This week Hog Roast Ellesmere Port were busy catering at an event held by the Oaks restaurant and bar at Upton by Chester Golf Club. The event was an M&S event and we had been asked to provide catering for one hundred and thirty guests with a serve time of 8.30pm. For this event, we had Hog Roast Ellesmere Port chefs Shane and Ella on hand to rustle up a fantastic roast. The menu for the event consisted of our classic Hog Roast with Vegetarian Skewers as the vegetarian option along with accompaniments of a freshly made mixed salad and crunchy coleslaw. The food was to be served up on our brilliant wooden crockery, making for minimal tidying up after the event.
After we had served everyone and returned from the event, we were delighted to have received some glowing customer feedback for Hog Roast Ellesmere Port:
Hi,
Our M&S event last night was a great success.
Just wanted to say thank you to Shane for providing such wonderful food and professionalism. Everyone was very impressed with the quality of food and choices available. You helped make our event run smoothly.
We will definitely be using you again for any other events we have coming up.
Thanks,
Hayley and Dale