With less than a week to go before John and Alison bid a reluctant farewell to their daughter Gemma, who has made the brave decision to spend a year in Japan teaching English, her sad but proud parents decided they wanted to give her a special surprise to see her off. They also wanted to let someone else do all of the hard work while they spent some quality time with their daughter, but as they had decided to host the party in their own home and back garden, they were a bit unsure about what caterer to go for. Who could give them a full catering service in their own back garden and menu options to suit even the pickiest family members, without intruding on the family occasion? All it took was one phone call to Hog Roast Willaston and all of their prayers were answered!
As all the family were invited there was going to be a lot of different ages and tastes to cater for, including a gluten-intolerant auntie and two vegetarian cousins. This is no problem at all for Hog Roast Willaston, as we have the adaptability to not only provide the traditional, succulent hog roasts we are so well known for, but also an alternative range of slow roasted meats, gluten-free bread rolls and wraps, and an appealing array of vegetarian options!
With her husband dispatched on distraction duty to ensure their daughter didn't arrive home too early and spoil the surprise, Alison was ready to greet us and showed us to the marquee they had set up in the garden for the event. Alison was very pleased when she realised that our catering style is so self-sufficient that she could just leave us to it  for the day, and with her husband and daughter out of the way, there was nothing for her to do apart from put her feet up and look forward to the party!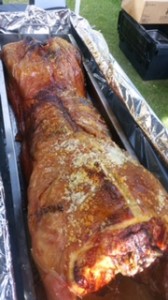 There was a buzz of excitement in the air, mingling with the heavenly aroma of the slow roasted pork, as the 50 family members congregated in the garden to await the arrival of the guest of honour. Their globetrotting daughter was very shocked to be greeted with a round of applause and a delicious hog roast buffet! There were lots of tears and plenty of tucking in, and Gemma definitely had a send-off full of fond memories and fantastic food courtesy of Hog Roast Willaston!