There were no sashes, L plates or other clichéd adornments in sight at the hen do Hog Roast Waverton catered for recently! The bride to be and her 30 friends were somewhat more old-fashioned in their tastes and instead decided to hire the grand ballroom of a local hotel to throw a 1920s themed bash to celebrate the upcoming wedding! Flapper dresses and cloche hats was the dress code for a fun-filled evening of the Charleston, a big band and fabulous fresh food courtesy of Hog Roast Waverton!
The bride to be had always been a fan of hog roasts but initially she didn't think it would fit with the theme of the evening. That was until we showed her our extensive range of party menus and explained to her how our food and style can be adapted to fit any occasion and, in this case, era! She was soon convinced and with the help of her extensive entourage, chose one of our more formal party menus, complete with welcome canapes and a selection of different meat and vegetarian options for the main course.
We had the preparations in full swing long before the party was, and we were our usual discreet and efficient selves as the hotel staff got on with decorating the ballroom and the band were setting up on stage. Even though we cook everything fresh on site, we never step on anyone's toes or bother staff at the venue by asking for additional help or equipment.
When the vintage hen ladies arrived, we were ready to greet them with our delicate handmade canapes and a glass of fizz to get the party started. Our serving table was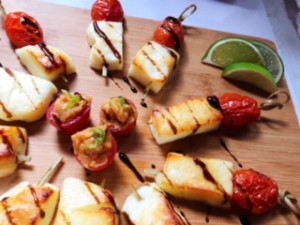 soon a sea of sequins and feather boas as the ladies shimmied towards our immaculately presented buffet! Our soon to be married hostess was delighted, not only with the quality of the food, but also with how seamlessly our menu fitted with the 1920s theme. She told us her only regret was that she hadn't hired Hog Roast Waverton to do the catering for her wedding day as well!