On Monday morning the office staff were inundated with enquiries for Halloween, which is one of our favorite events of the year to cater for. It looks like October is going to be a busy month for Spitting Pig Cheshire!
Our most recent event was an evening wedding reception that took place in hog roast Bunbury. Bunbury is a lovely little village right in the heart of the country side with narrow winding roads and little road side cottages. The wedding party had been booked in with us since 2014 so our team were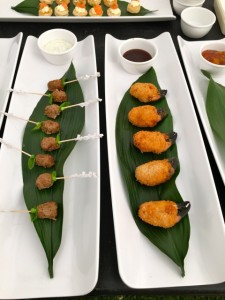 well prepared for the evening event.
We arrived at the village hall 3 hours prior to service time with the wedding planner and pitched up in a corner of the room. Our fantastic team started prepping the canapes and champagne ready for the guests arriving at 6. We had the hog roast Bunbury roasting away. The couple had decided on our popular menu 4 dining menu with the addition of canapes.
Once the guests arrived at 6 we had the service table well presented with an array of salads and side dishes to accompany the hog roast. The guests filled their plates and boy did they look happy! Many came back for more and thanked us for doing such a wonderful job.
Another fantastic even in hog roast Bunbury!