Yesterday, we catered for a farewell party. It was an emotional day with lots of heartfelt speeches and goodbyes for a popular couple in Timbersbrook whom were relocating to America!
The get together was hosted by one of their friends, Jasmine, who had found out about us from her dad. Jasmine had originally wanted a small outdoor buffet, but this proved tricky when she realised how many friends wanted to attend. So with our help, she was able to rearrange her booking from an intimate outdoor party to an indoors buffet that would serve more people.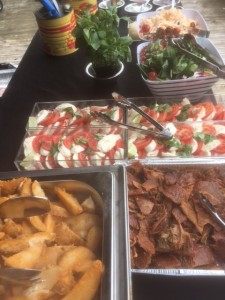 We arrived the morning before the event ready to cook; Jasmine had opted for our succulent free range spit roasted hog and we got to work setting up to make sure that her friends had the best send offs ahead of their new adventure.
The chosen venue was very extravagant and it was large enough that the worries of not holding enough people were a distant memory. It was planned that everybody would arrive before the guests of honour, so it would be a nice surprise for them to enter and see how many of their friends had turned up. We were busy cooking in the kitchen area as guests were arriving and the mouth-watering smells that are so familiar to us were creeping out into the main room getting the guests excited for their upcoming meal.
When it came time for the couple to arrive we were plating up the buffet tables with delicious looking foods and succulent meats. As the rest of the party went on, guests were able to help themselves to our food as they mingled with their friends, and we made sure to congratulate Jasmine on pulling off such a terrific party. We knew it was time to start clearing up properly when we couldn't see any food left over in the venue. Happy that our customers had enjoyed themselves, we got busy clearing up any plates and bits of crockery as we listened to the speeches about the guests of honour and how much they would be missed.
Jasmine asked us to leave a few business cards for the some of the guests that enquired about the food and we were more than happy to oblige, taking pride in the fact that people had enjoyed our food enough to ask. Before we left we made sure to wish good luck to the guests of honour, who thanked us for such wonderful food and assured us that, despite them looking very emotional and teary eyed, they had an enjoyable night and had eaten their fair share of the hog roast buffet in Timbersbrook!