The warmer weather has meant somewhat of a surge in bookings, so we're busier than ever here at The Spitting Pig. Over the weekend, we catered for something we don't do very often – a hog roast in Norley for a baby shower. There's no reason why you can't have a hog or spit roast at your baby shower, too, as the food and spectacle of it really is suitable for any kind of event that you have in mind. Whether you choose to have a buffet or a sit-down meal and whether you decide to have your meat cooked and served indoors or outside, take a look at our party menus to see the kind of food you can enjoy at your own baby shower.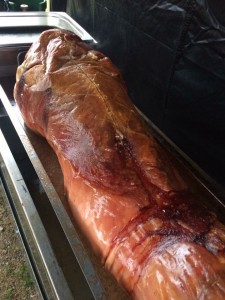 Julia's baby shower was held at her mother-in-law's home, where we arrived to cook a nice, fat pig in the back garden. We had one of our smaller roasting machines with us and a 30kg pig, as it was a fairly small affair for close female family members and friends only. The invitations had gone out to the guests as 'The Backyard Baby BBQ', and even though they were illustrated with a pig, Julia hadn't actually told anyone about the actual hog roast in Norley. As well as the hog, she requested various meats to barbecue, including our chef's own sausages and handmade burgers, as well as chicken kebabs and spare ribs that we marinate in a special sauce. We couldn't wait to help to surprise the guests and so got to work setting it all up and slowly roasting the hog until it was soaking in its own tasty juices.
It seems that some of the guests had realised there was a hog roast just by the smells wafting around the street, as before they had even seen it, we heard excited raised voices, asking if there was really a hog roast at the party. I guess once you've been to an event like ours, you can recognise the sweet smells anywhere!
After the happy guests played some fun games, including guess the gender (the cake was revealed to be blue inside, by the way!) they all gathered round our marquee to sample our delicious meats, potatoes and salads and then toasted Julia and her little bun in the oven.