Yesterday, we spent a great afternoon and evening catering for Lee's 18th birthday celebration with a hog roast in Plumley. It was thankfully one of the cooler days we've had recently (which probably makes me sound like a typical Englishman who complains that we get no sun and then the next day complains that it's too hot!) When you're cooking and carving sizzling meat, though, it can get a bit hot under the collar, so I'll use that as my excuse!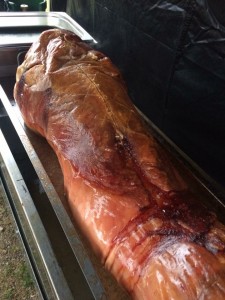 We arrived at the venue around noon to start cooking for a few hours before a hog roast Plumley tea would be served. We set up the gazebo and equipment and soon the 35kg pig was being cooked to perfection. It takes roughly an hour per ten kilos of pig, depending on the weather, and a pig this size can feed between 10 and 50 guests. The birthday boy let me know that he was glad it was a fairly small affair, as it would mean more meat for him to enjoy.
You may already know that we don't carve the whole hog in one go and then dish it out afterwards; we carve straight from our roaster directly onto your plate, so it's nice and hot and still freshly cooked. You can even ask for a particular part of the pig, as we carve to order. Lee insisted on being first in the queue once it was ready to be carved and then joked that he wanted 'this bit' and 'that bit' and then he said, "Oh, just give me the whole thing!" His mother laughed and told him he was grounded for being greedy.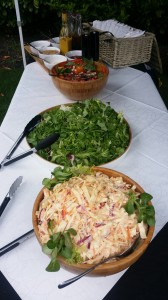 One of the best compliments we had at this party was that everything was so incredibly fresh and obviously good quality, from the meat to the salad and the bread rolls to the apple sauce. Here at The Spitting Pig, we are passionate about and committed to providing quality and fresh ingredients for our customers, which is why we often get repeat custom and word of mouth recommendations. The meat is locally sourced where possible and cooked right in front of you and you can probably taste our love of fine meat in every bite – which is exactly what Lee's father said to me after just one mouthful! It'd be our pleasure to cater another event for this lovely family.