At Hog Roast Manchester, we have a full range of brand new hog roast machines for sale, to suit different catering needs, both professional and domestic. Nevertheless, we also sell used machines and our stock depends on our customers trading in theirs for newer ones. If you're looking for a pre-owned hog roast machine that has the same great capabilities as our new equipment but which costs significantly less, you've come to the right place, as we ensure that our used stock are all rigorously checked and comprehensively refurbished, and they even come with a 12-month warranty, just like we offer with our new machines, as well as a 12-month gas check certificate.
Our range of machines are British-built by us, in our northwest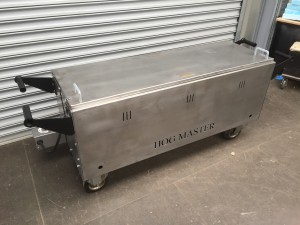 factory, and they are the ultimate in hog and spit roasting technology. Hog Roast Manchester is proud to sell both used and new hog roast machines, as we know they are all in fantastic condition regardless. We're passionate about great service and high standards, so when you come to us looking for a used machine, you get the same service as if you were purchasing a new one, and we hold them to the same high standards too.
We were recently visited at Hog Roast Manchester by Michaela and Peter, a couple who are in the process of starting their own catering business, and who want to cater using one of our hog roast machines. Hopefully in the future their business will need more than one machine but for now, they were looking for one pre-owned machine to start off with. Having both used similar machines in the past when working for other catering companies, the couple asked us what we had available and talked to us about their wants and needs, so that we could point them in the right direction of which machine to buy. We had several used machines in stock, including a Hogmaster which is always a favourite with caterers, and would be ideal for their needs.
By the end of the day, Michaela and Peter walked away with a lightly used Hogmaster at an amazing price and we look forward to hearing about their new catering adventures using one of our excellent range!
https://www.spittingpig.co.uk/hog-roast-machines/used-hogroast-machine-for-sale/