In September we catered for a lovely couple who were celebrating their Ruby wedding anniversary. Happily married for 40 years, the couple wanted to celebrate with family and friends, and also with a hog roast in Frodsham. They had a beautiful home with a lovely garden and the couples children had helped to decorate the garden and marquee with the colour Ruby red. It looked stunning. The marquee had a few tables and chairs, a mini disco area for later in the evening and a bar they had set up in the corner. We were shown to an area just outside the marquee, where we set up our our gazebo and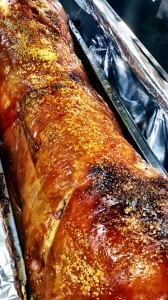 serving tables. The happy couple had wanted a traditional hog roast with a chicken option, and also a vegetarian option. They had gone with our home made vegetarian quiche, a very good choice – always goes down well, as well as some side salads to accompany the main.
An early evening serve meant we were set up and ready to serve for around 7pm, just as people were starting to get hungry. After we served everyone and cleared up, we were asked to stay for a refreshing drink and we had a little natter to the guests, mainly people interested in the business. We soon packed up and left the party goers for what I can only assume would be a fantastic night. A brilliant hog roast event in Frodsham.