Our Hog Roast Cuddington professionals are well-versed in catering for all kinds of special occasions, so whether you're planning the food for a milestone birthday party, your wedding day or a corporate function (or anything else you can think of), contact us to see exactly how we can make it a great success. We've spent many years ensuring that our customers and their guests are all well-fed and that includes those on special diets as well as those with bigger appetites and those who would prefer different food to be served. While our famous hog roasts are to die for, we truly understand the need for choice and variety in catering, and that's why we have lots of different options available to suit varying tastes and needs. From canapés to multi-course menus and speciality menus like our winter warmer, Southern Slow Roast and loaded fries, we really do have something for everyone.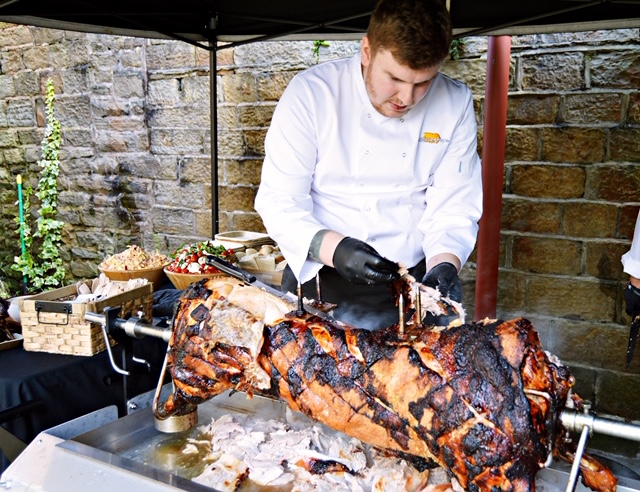 When Rich contacted Hog Roast Cuddington to book us for his wife Maria's 50th birthday party, he knew that she would be thrilled to have us serve our amazing pigs in buns, where we roast a hog for hours on end until we get fresh, crispy skin that's turned into salty crackling, as well as tender meat that melts in your mouth, and add bits of both to fresh bread rolls and wraps together with our homemade apple sauce and stuffing. Nevertheless, Rich also wanted us to serve additional options, to make sure that everyone had enough to eat on the day, and asked us for a seasonal green leaf salad, a large bowl of our own coleslaw and sweet potato fries with a bit of a kick.
On the day of Maria's milestone birthday party, Hog Roast Cuddington, our team headed to the family home and set up our equipment in the back garden, and before long we were freshly preparing the meat and then the hog sizzled away for an age. As Rich and his family and friends decorated the surroundings, we prepared and cooked lots of lovely food and by the time everyone had arrived, including the guest of honour, we had a great feast ready to be devoured.