I am not surprised tha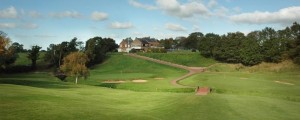 t I get great feedback about my work as a hog roast Wilmslow chef because it really is a simple yet intensive meal. Using the best possible ingredients is then reflected in the top quality hog roast provided. The cooking is equally done with great care and precision. As they say you can not rush a good thing and one thing you cannot say about hog roast is that it is a lazy cook's dish. Far from it. You may not know all the inside outs of cooking a whole pig but one thing you should understand is that it is best done slowly. From the very moment I start cooking that whole pig, I know that I have at least six hours of cooking time ahead before I can start carving and serving the meat to your hog roast Wilmslow guests. Yes, you heard me right, a full six hours! Actually, I love it, and the fact that it takes so long is not a problem. The time is essential because slow roasting is all about getting the very best flavours out of the meat you are cooking. It's one of the reasons I choose a pig with good amounts of fat on it, as this really helps with the cooking. You see a good level of fat really helps prevent the meat from drying out, and when you are cooking for six hours, that is very important. The best thing about hog roast is the juiciness of the meat, so the last thing you want is dry, flavourless, tough as old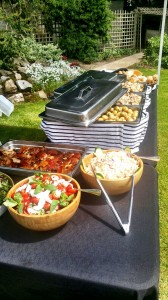 boots meat. I also take immense pride in the quality of my crackling. There is nothing quite like a nice bit of crispy crackling and I think I can safely say that you will not find a better bit of crackling in Wilmslow, if not Cheshire.
You know, I could get really jealous if I really wanted to. Silly I know, but some of the houses in Wilmslow are just incredible. If and when I come back in another life, it is going to be as a Premier League footballer or a huge rock star, as I reckon that is the only way I am ever going to get to own one of those sorts of houses. There is the lottery but I reckon I have a better chance of meeting Elvis than winning that!
How do I get to see (and be jealous of) all these lovely houses? Well, it's because of my job as the hog roast hire Wilmslow caterer. I have served the area for a good five years and, in that time, I think I have driven past each and every house in this town of some thirty thousand people. There are some pretty well known characters living here and I can see why. It's great round here.
I never knew that I would end up becoming a hog roast Wilmslow caterer, it is something that just happened really. I have always had a passion for cooking and always really wanted to run my own restaurant but never had the money to back up my dreams. Then one summer, I got invited to a music festival with friends where there was a hog roast being served. It was incredible and was just what I needed after a hot and sweaty gig. 'I could do this', I thought. Before I knew it, I was a hog roast caterer serving the very good people of Wilmslow.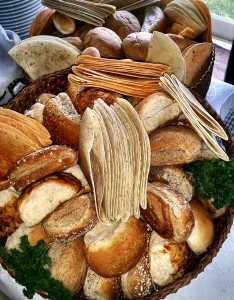 I know that some people are never really happy in their work and I have been in jobs that I have found so incredibly dull, it was untrue. This is different. Being a hog roast hire Wilmslow caterer seems to have brought out the very best in me. This is a great job for meeting people and really enthusing people about what I do but most importantly of all, it is being able to serve people some of the best tasting event food around that makes it all so worthwhile. This is the whole reason why I like cooking, it is getting that response from people that really makes a difference. I certainly get a great response from all my clients with hog roast, in fact I cannot remember anyone ever saying anything less than ultra positive about my hog roasts.
If you found this page because you were looking for details on local hog roast caterers, well done. I hope I have helped convince you that a Wilmslow hog roast is the catering to choose!