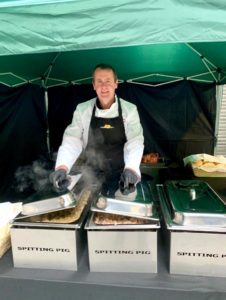 Hog Roast Runcorn are the ideal caterers for you no matter your event. Whilst we are known for catering private parties and weddings we also cater at corporate functions and events. Just recently Hog Roast Runcorn were invited to cater at an event being held by Ninemeister in Warrington.
We had been contacted by Sarah who had asked us to provide our classic hog roast Runcorn menu for approximately one hundred and twenty people and a serve time of 7 'o' clock. The event was the Porsche Club GB night at Ninemeister and would be an opportunity for Porsche enthusiasts to take a look at some of the latest projects in the Ninemeister build shop and also talk about some of the newer servicing updates in the main workshop.
We arrived niece and early in order to get set up and prepare our hog roast, giving it the maximum amount of time to become beautifully tender. Whilst we are able to cater from any and all locations, even catering manager Paul had to admit he had never catered from a Porsche show room before! With so many classic cars around us it was up to us to provide a classic roast!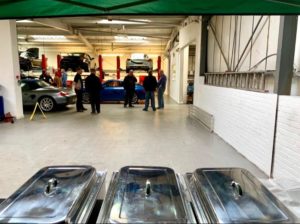 With this menu we will roast a hog low and slow for several hours. Before the meat goes on to cook, we carefully score the skin and apply lots of salt and water to ensure the skin crisps up deliciously into that moreish crackling for which we are known. When cooked our chef carves the meat into succulent slices and places on freshly baked rolls topped with tangy applesauce and delicious stuffing not forgetting the crackling. Sarah also requested our vegetarian option of grilled vegetable skewers which themselves are a delicacy.
All in all, it was a fantastic event enjoyed by everyone and we are proud to say there were no leftovers in sight!