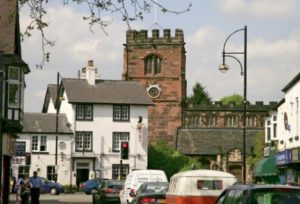 Nestled between the city and countryside, Cheadle Hulme offers the best of both worlds and when it comes to event catering, so do we. Here at Hog Roast Cheadle Hulme we supply the finest hog roasts in the area and a range of great menus that are suitable for any event. We are able to provide restaurant-quality food in any location, giving you the freedom to host your event in your ideal venue, whether it be indoors or outdoors, anywhere in Cheadle Hulme.
You won't find a more varied or flexible catering company anywhere in Cheadle Hulme. Our hog roast machines are designed to be used in any environment and our highly skilled chefs are mobile caterers in the truest sense of the word. No matter where we are cooking or how many people we are catering for, our highly experienced team are always able to deliver unbeatable food and service.
Fantastic Food Fit For Any Occasion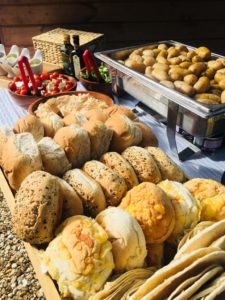 Whilst our ethically-reared pork is roasted slowly over several hours until it is falling off the bone, our catering assistants work like clockwork to freshly prepare every other aspect of your menu. We always make everything from scratch on-site using only the finest quality locally-sourced ingredients, including all of our starters, sides, desserts and individually handcrafted canapes. Hog Roast Cheadle Hulme's attention to detail and commitment to quality are second to none, whether we are catering for 20 people or 200.
If you would prefer an alternative to pork, you can treat yourself to some of our succulent sirloin of beef, juicy organic chicken, tender spring lamb or flaky whole-roasted salmon, all prepared using the same unbeatable slow-roasting method. If you have vegetarian guests or those with particular dietary needs, we provide a varied array of meats-free dishes, as well as having the ability to adapt any part of your menu to meet specific requirements.
For more formal occasions we can also treat you to full table service and a canape welcome reception thanks to our diligent front and house and waiting staff, if you would prefer a more traditional sit down meal to a buffet. Hog Roast Cheadle Hulme can provide the perfect balance of quality and service for any event in Cheadle Hulme and offer you a memorable dining experience.