Dave and his wife Michelle had always been staunch fans of their local rugby team and the club has been the scene of many happy occasions in their life. It was where they first met and where they had their wedding reception, so when it came to choosing a venue for this son's christening, it was their one and only option!
After trying some of Hog Roast Bunbury's delicious food at another event at the club, their decision about the catering was also crystal clear, especially when they discovered how extensive our range of menu options is!
They opted for their firm favourite hog roast, along with some of our equally high quality organic slow-roasted as an alternative meat, along with seasonal veggies and rosemary new potatoes, and their 5 vegetarian guests, Hog Roast Bunbury's tangy feta skewers and homemade quiche!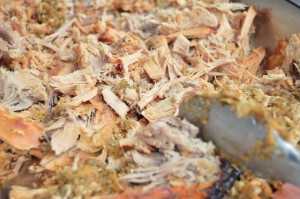 As we always arrive  several hours before any event to prepare all of our scrumptious, locally sourced ingredients from scratch, we found ourselves working in tandem with the rugby club staff, who were bustling around decorating the room with balloons, ribbons and family photos featuring the new arrival. We are so used to cooking in a variety of locations that we can adapt seamlessly to any environment and we always manage to deliver top notch food without  getting in the way of any other preparations that are taking place throughout the day!
When the jubilant family and friends arrived after the church ceremony,  they were warmly welcomed by our friendly events staff who made sure everyone was comfortable and well-fed throughout the meal!
Proud new parents Dave and Michelle were clearly in their element surrounded by their nearest and dearest helping them celebrate their son's christening in a venue that was so dear to them. They told us what made their day even more special, was the unforgettable food and impeccable level of service provided by Hog Roast Bunbury! We were glad to be a part of such a joyous family occasion and it looks like we'll be back in the rugby club again in future, as the next celebration on the horizon is the couple's 5th wedding anniversary and they want us to come back to cook them some more of our superb food!