With many years of experience under our belt, Hog Roast Middlewich's professional chefs can bring the theatre of a hog roast straight to your back garden – or any other venue you have in mind if you prefer. Our hog roast equipment is gas-powered, so we've no need for mains electric to get your pig cooked and it can be pretty much anywhere you like! We're proud to come highly recommended for many reasons, including for our gorgeous food of course (and not only hog roasts, as we offer a wide selection of food), as well as our unbeatable service and friendly, knowledgeable staff.
When I first received a call from Hannah, she was looking for caterers for her 40th birthday party and she'd heard good things about Hog Roast Middlewich from a friend (which is always a great compliment to us). However, Hannah needed more than one option for her party, as she had invited a vegetarian guest and a guest with a gluten intolerance. We reeled off the various vegetarian alternatives that we can provide, including stuffed peppers or mushrooms, a homemade vegetarian burger or Spanish quiche and I'm sure I heard Hannah fall over from the shock… All kidding aside, just like many of our new customers, Hannah was really surprised to hear how well we cater for non-meat-eaters and she selected a veggie bake for that guest. For the carnivores, Hannah asked us to cook our infamous, highly tasty specialty, pigs in buns, and she was so happy to hear that the gluten-intolerant guest could eat the same as everyone else, just with gluten-free bread rolls that we could bring along.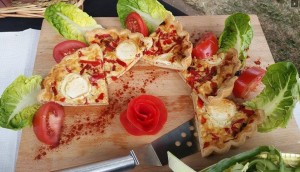 On the day of the party, which was a chilly, rainy Sunday, our team headed to the pub garden venue to set up our equipment in a private area and prepped the meat to be roasted for several hours. Sometime later and it was sizzling away in its own juices, and the air was filled with the unmistakable aromas of a Hog Roast Middlewich hog roast. Hannah and her friends and family couldn't wait to dig in and we were thanked profusely by both the vegetarian and the gluten-free guest for ensuring that they could enjoy the party too.