We at Spitting Pig Cheshire upon taking the booking of each event ensure that our customers will be happy on the completion of the function putting a pen to paper and writing a few words about the service they have received for their event. This ensures that we can monitor our selves and maintain the high standards of service which we provide each and every week to each and every customer both large and small. We then publish this information at the end of the year so future customers are able to view how other people have perceived our standard of service.
Currently we are proud to say that we have a one hundred percent feedback record with each and every customer we have dealt with giving us a positive write up. But don't just take our word for it, several of our customers who were unsure about who to go with (probably like yourselves) have given permission, for us to give out their numbers to anyone who wishes to seek further information into the way we follow through each event.
***************************************
Hi Sarah,
Sorry that it has taken so long to reply,
We thoroughly enjoyed every aspect of the Hog Roast, from the initial meeting with Ian & Adrian. They were very professional, friendly & informative in all aspects of our event.
The Hog & accompanying foods were all cooked & prepared to perfection, the service was impeccable.
We would not hesitate to recommend your company in the future.
Many thanks
Jane Griffiths.
***************************************
Good Morning
Sorry for the delay in replying, we went away on holiday after our party.
We had a lovely day thank you, everything went very well, Ian arrived very promptly and set up without any trouble. The quality and service was excellent and everybody thoroughly enjoyed the pig.
Kind regards
Angie
***************************************
Hi Sarah
We thought everything was very professional & well organised by Ian & Emma, the set up was great and we were really impressed with both the presentation & execution.
We would certainly recommend you to others & will be using you again in the future.
Warmest Regards
Jo
***************************************
I would like to say a huge thank you to Ian and the rest of the team for a job well done!  The hog roast was amazing, the salmon delicious as was the rest of the food, I can't thank you enough for you professionalism and quality on the run up to the event and on the night.  Thanks for helping to make my birthday fabulous.
Kind Regards
Lindsay McAlice-Kennedy
***************************************
Hi Sarah,
Yes of course and our response is simple- It was outstanding, very impressed indeed! The guys were lovely and polite and the way it was all done was perfect. The food was absolutely delicious and literally everyone wanted to know the company details because they were so impressed.
We will definitely come back to you guys in future should we need a hog roast!
Hope this helps!
Many Thanks
Lucy
***************************************
Thank you for providing a lovely hog roast for our event in Burtonwood. Everyone raved about the food and I have passed your details on to quite a few of the guests.
David & Ellaine
***************************************
Good Morning
Thank you for getting in touch.
On behalf of all the Company, we would like to thank you for the superb service and amazing Food.
We had a fabulous day on Saturday, the Food was wonderful and the adults and children raved about how different it was. The smell when you walked in the park was fab.
Its looking like this could event could happen again in the future and we would definitely be in touch.
Thank you once again for all your help.
Kind Regards
Lorna
***************************************
I would personally like to thank you and your team for all your exceptional work. I woul also like to thank a gentlemen named Will who was very professional in his approach to managing the day. Everyone commented on how good the hog roast was and it will be the top of our list on our next family event.
***************************************
Thank you so much – it was marvellous. Everyone said how lovely the pork was and several people have said it's the best hog roast they have had. And Jonathan was well organised and generally lovely. We'd recommend you without hesitation.
Thanks,
Sarah
***************************************
Dear Steven
Thank you for a fantastic evening – the food was superb and the service efficient and charming. Everything was set up on time, we ate on time and it was presented perfectly.  We have put a special thank you to – Your chef and Spitting Pig in our newsletter so that people know who you all are.
With many thanks
Emma
***************************************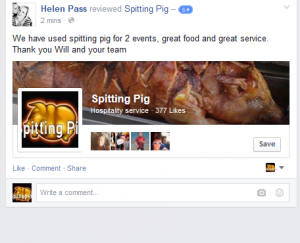 ***************************************
Hi Will,
Another excellent job once again, we booked you last year and you did a fantastic job so we decided we would re-book you this year and what another brilliant choice we mad.
Thanks for your catering and we will be in-touch shortly for yet another 3rd event!
***************************************
Hi Will,
We were very happy with the quality of the food and the service you brought us on the weekend. We will definitely use you again.
Graham
***************************************
The all day went fantastic apart from the weather!
The food was excellent and the catering team were great, brilliant experience and I will be contacting you again for my next  event
***************************************
Will, You came and catered for us at our last event and we would just like to say big thanks. The feedback we received from our guests was brilliant and the food was spot on. We will certainly be recommending you in the future and we will be using you again.
Thanks a lot guys for our wonderful hog roast at the Trafford pub we had a great time and the food really was the icing on the cake. The pig looked fantastic and the crackling was to die for.
See you next time.
Janice and Dave hog roast in Trafford.
***************************************
Hi Penny
The hog roast was delicious !!! Everything went according to plan , and the guy that prepared and served the food was very good at what he does and very friendly!!
Everyone commented on how good the food was .
I would surely use you again
Thankyou for a lovely meal.
Regards
Shaun Scholfield .
***************************************
Hi Penny
we were very happy with the service and quality of the food- we would definitely use again and recommend to others.
thanks and regards
***************************************
Well done Dave and team. The hog roast in Timperley was a great success and really helped make it a special day for all our customers. We will definitely be having you back.
Paul T & M Autos.
***************************************
Apologies for the delay in my response, I have just returned from annual leave. Everything was fine for the event, unfortunately they didn't have the number of attendees expected, but those that were there really enjoyed the food!
Many thanks,
Kind Regards,
Tracey Taylforth | business development manager
www.imagered.co.uk
***************************************
Hi Will
A big thankyou to you and the team. We had a great event at our hog roast in Tarporley. What a fantastic job in such adverse weather Tip Top!! All the best for the rest of the British Summer.
Mrs Philips
***************************************
A great big thankyou to the team at Spitting Pig.
What a marvellous job Will you and your team did providing a hog roast in Wilmslow for Ruperts 21st. Nothing was to much trouble even helping to mow the lawn round the front of the marque extraordinary service. I will definitely be recommending you to all my friends.
Mrs Drayton
***************************************
To William and all your staff,
Matthew and I would like to say just how much we enjoyed the food you provided for our wedding breakfast – we could not fault it and everything ran like clockwork. So many of our guests commented on the excellent
***************************************
I'd just like to say thank you so much for the fantastic Hog Roast you provided for my 40th birthday celebration. Although you came personally recommended, there is always a bit of panic about how it's going to turn out but I didn't need to worry at all. The Hog itself was perfectly cooked and absolutely gorgeous with superb crackling that kept my Dad and a few of the guests quiet for a while but not forgetting of course the tender moist meat. The vegetarian cannelloni that we went for, was also a hit with the guests and although I only got it for those who may want something different, almost everyone wanted some. Everyone who came has commented on the quality of the food which helped to make it a night to remember. Of course it was topped off with your Nana's recipe fruit pies. In the planning stages you came up with various suggestions and it seemed like nothing was too much trouble. For anyone booking you in the future, panic about something else but not the food; I would recommend you to anyone and hope I get invited to someone who's having you as their caterer in the future. In fact, I'll see you hopefully on the 16th December for our works do!!.
Take Care and hope it goes onwards and upwards,
Lisa B. (Clitherowe)
***************************************
Traditional Hog roast 50 people
incredible tasting pork, the best crackling I have ever eaten, excellent value for money, one of the great aspects for me was the length of service from 6.30 to 9.30 as my guests had a staggered arrival and the pork maintained its moistness and tasted as good at the finish as the start, once finished everything was tided, and the small amount of meat left was carved off the pig wrapped and left with us, what a service!
Nick Shepherd (Preston)
***************************************
Summer Hog for 200 people
Dear William,
Thank you for the fantastic job that you and your friend did, everyone commented how tasty and delicious it was. Also, how accommodating and professional you both were.
A number of guests requested your contact details, because they enjoyed it so much.
Many thanks again and kindest regards
Jasmine (Congleton nr Manchester)
***************************************
Country style Hog 380 people
Dear William
I would just like to say thank you for providing an outstanding Hog Roast for me and my guests. I felt the size of my event was going to limit my options to the style of catering but with your many different options and additions I soon realised I could literally have what ever I wanted. As you well know I was extremely nervous about the party, but you kept me informed all the way through, for that I am extremely grateful, the service we received was second to none. Which obviously my guests agreed with, as I believe two have already booked you for 2011!!!
Thanks Again
Jane (York)
***************************************
"The Hog Roast was absolutely delicious and a very fitting end to a Peppa Pig themed Childrens party"
on a serious note……..
'Highly recommendable! 'The Spitting Pig' offer excellent, professional service, well mannered and friendly staff who prepare and serve fresh and tasty food'
Jason Manford (TV Comedian)
***************************************
Hi William,
I would like to pass on my comments with regards to the hog roast you organised for mine and my wife's 40th Birthday party.
The hog proved to be a great talking point for the 85 guests we had on the day. We were hoping that everybody would have been outside on the day but the weather got the better of us and at one point all 85 guests were in the house but your team were still preparing food in the garden.
My aim on the day as host was to have as little as possible to do leaving me to mingle with our friends and family. This was very much achieved and I cannot thank you enough.
The food was fantastic and is still being talked about to this day.
Despite the weather your team were brilliant serving everybody at least twice and some even went back for thirds.
More than one person commented on how polite and courteous your team were to both our adult guests as well as the children.
Please pass on my thanks to all of your team that helped make our day very special. I have already recommended you to two other contacts one of which is a party company in Preston who may use you more than once.
Regards
Steve Pickering
New Longton
***************************************
Dear William,
Just a quick note to thank you so much for the amazing work you did for us, at my wife's 40th birthday party. All of the food was fabulous, and I can only describe the hog roast as superb! Our guests are still talking about it now, as it was so unusual and so tasty…but I am sure you could tell that from the number of people that came up for seconds and even thirds!
To leave all the catering to you meant that the event was stress-free from start to finish. You and your staff were really professional, and it was a pleasure to have you at our party – I would have no hesitation at all in recommending you to anyone thinking of something similar.
Many thanks once again,
Colin Larkin, Timperley, Cheshire