The Hog Roast Macclesfield team were recently hired by Charlotte for a private function. The party was slightly more of a formal occasion and the Hog Roast team ensured that they adapted themselves to suit the atmosphere. The Hog Roast was a great traditional blend of British food which was all locally sourced and was enjoyed by many at the function.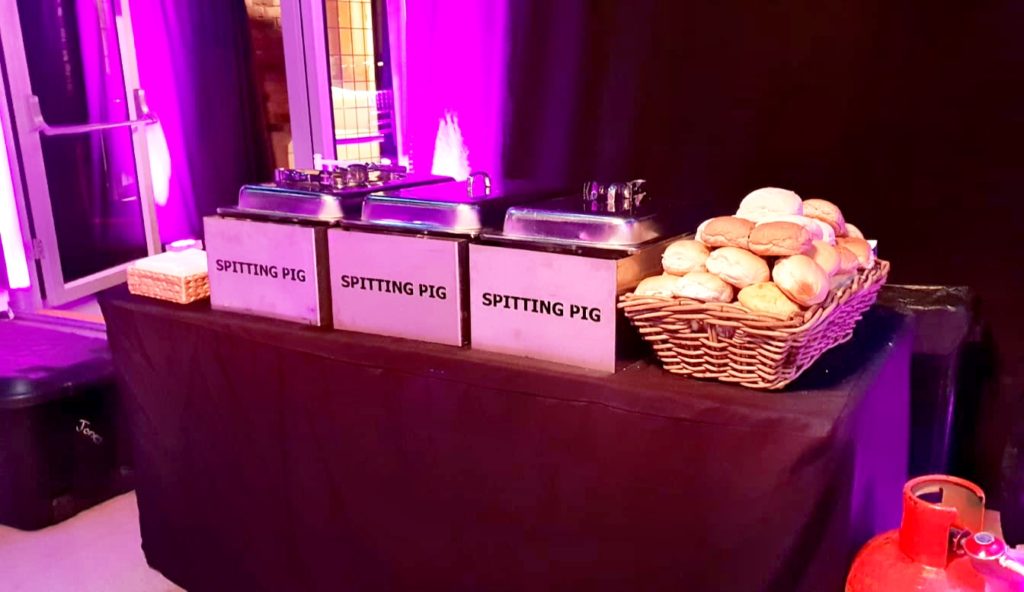 Charlotte chose the Hog Roast Macclesfield team Menu One from the menus offered to private parties. This menu is one of the team's classics and includes a traditional slow roasted hog served with apple sauce, crackling and homemade stuffing. In addition, vegetable skewers were served alongside the meat as the vegetarian option. Moreover, deliciously fresh bread rolls were served with the meat to compliment it as well as the team's classic sauces. The buffet was for 80 people and so the team ensured that there was plenty of food to go around and that all of the food was ready at the same time. Charlotte requested for the food to be ready at 7pm so that the guests could enjoy the food throughout the evening. The service was led by the Hog Roast Macclesfield team's Catering Manager, Alex, and he ensured that the team worked hard to maintain their usual high standards of quality. Alex also professionally slow roasted and carved the freshly cooked hog on site. In addition, the team delivered a friendly service and chatted confidently with the guests as they helped to serve the buffet.
The party was held in a private function room that was decorated beautifully for the occasion. The room was bathed in pink lights that helped to create a fantastic atmosphere and the Hog Roast Macclesfield team had laid out the food along professional catering tables using wicker baskets and hot plates. The hog was displayed along a second table and looked fantastic on the buffet. All of the guests appeared to really enjoy the food and Charlotte was very pleased with her choice to choose the Hog Roast Macclesfield team for the event. The guests had a fantastic time and the atmosphere at the function was fantastic.